In our 2021 Springdale 220RD the water pump was located front left in the pass through behind a flimsy cover. It was loud as he** because not only was is screwed tight to the floor, negating any vibration isolation, it was also azzend up against the left wall. So the entire wall from the potty to the front carried the noise. I fixed that: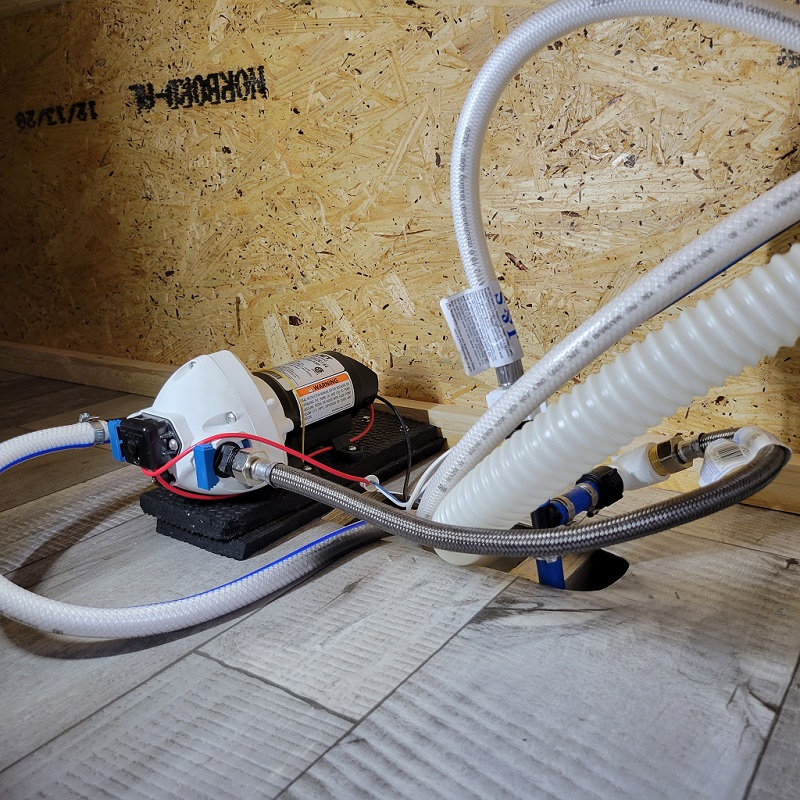 I moved the pump from the tight corner over to the other side of the infeed. A piece of "stall blanket" from Tractor Supply is mounted to the floor with two small #8 screws to hold it in place. The pump is mounted with some 5/8" #8s to a similar piece. This is the thinner blanket TSC sells and it's ribbed on one side. Faced the rib sides together and secured them together on one end with two lightly threaded #8s. Used a 20" piece of 1/2 faucet supply and a couple of fittings/brass to tie the pump out back to the infeed. Use hose for 1/2 iron pipe to iron pipe - may have to find online. I did find a hose at Home Depot but had to use sealer on the "faucet" end to stop leaks. Proper hose is on order.
You can barely hear the pump now.
On an aside - if your pump is hard lined into the RV, then consider something like "SHURFLO 94-591-01 Pump Silencing Kit". Re-mount the pump on some isolating medium not touching walls and let the flex lines reduce vibration transmission to the water lines. Can also cove the water lines with some 1/2 pipe insulation.